ROVAL ALPHA
Zinc Rich Compound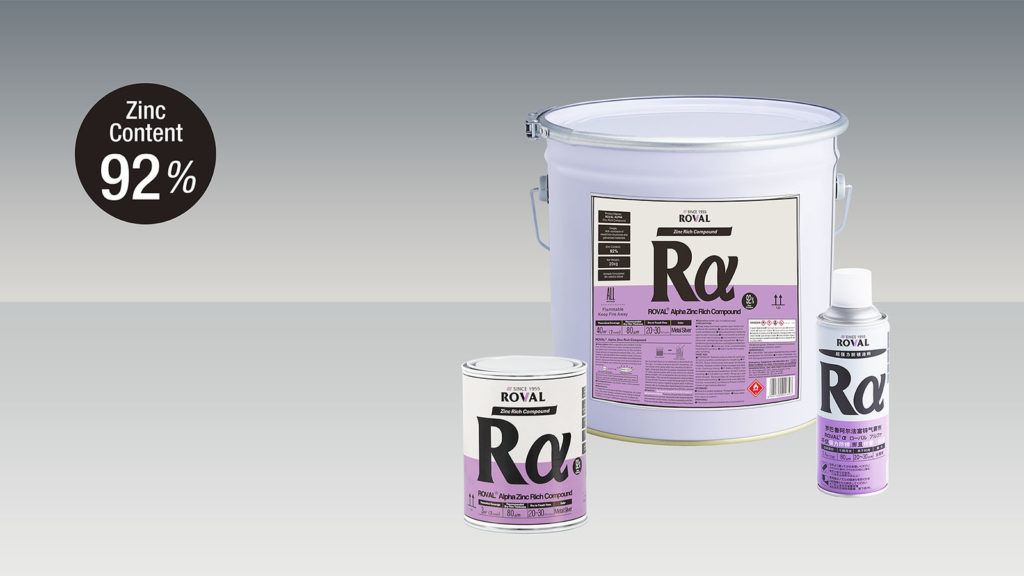 High rust preventive performance because silver color is achieved with zinc only.
ROVAL ALPHA not contain pigment (aluminium).
As the main component of ROVAL ALPHA, the particularly processed zinc flakes provide the film with metallic texture and luster.
>> View Gallery
Finishes in a color similar to hot-dip galvanizing.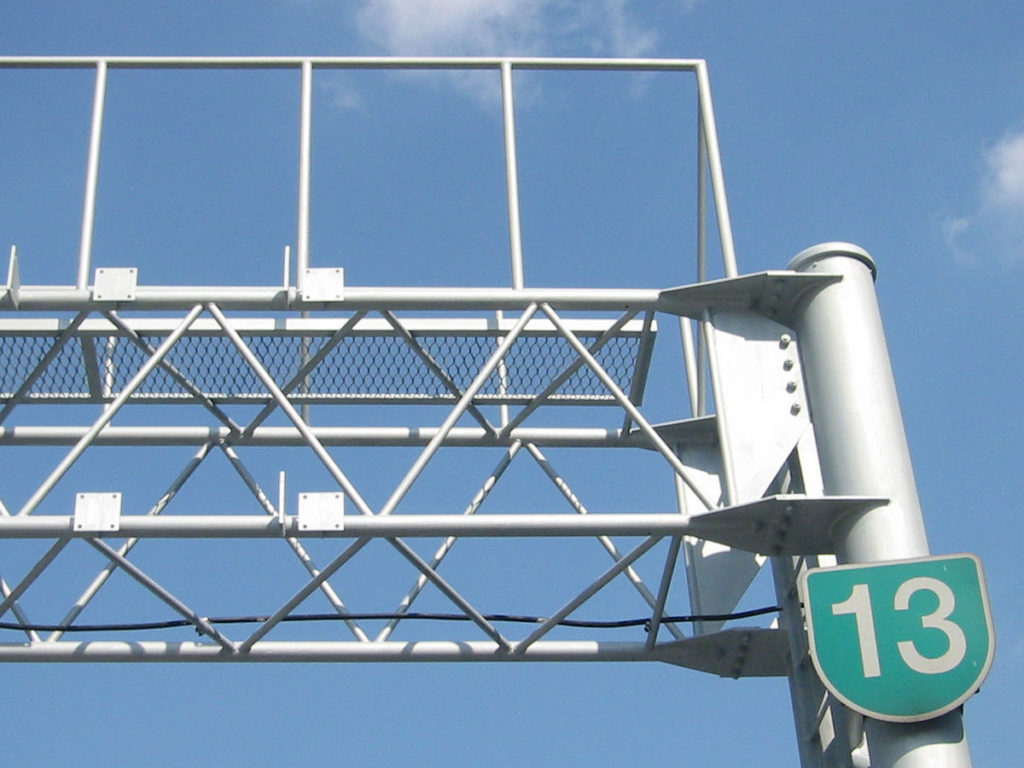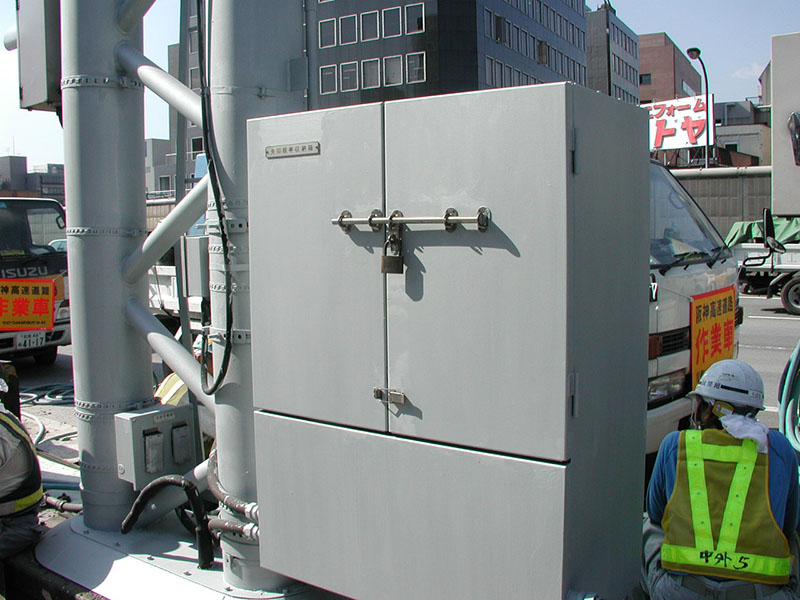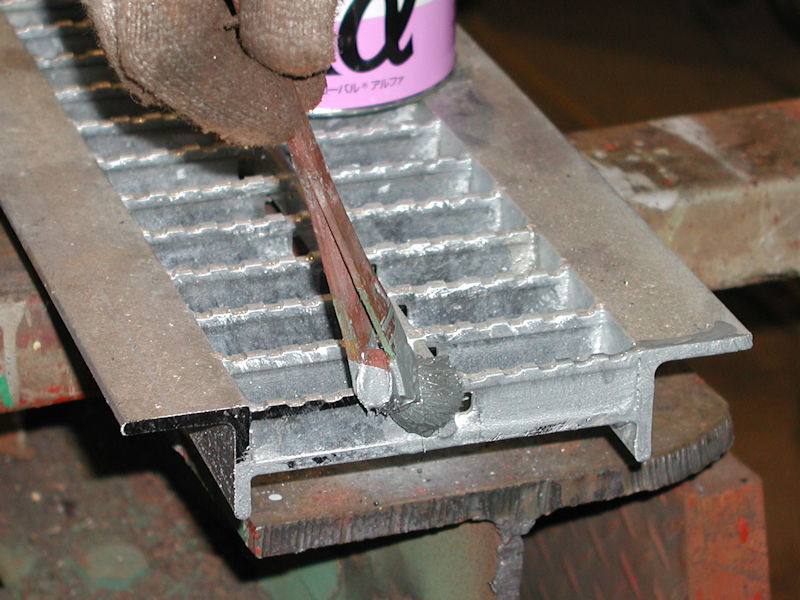 Structual drawing of ROVAL ALPHA's film
ROVAL ALPHA does not contain any pigment (aluminium). The very beautiful silver metallic luster of ROVAL ALPHA comes from uzing zinc flake (lamellar zinc powder) as the elemental component of ROVAL ALPHA against corrosion to steel structures.

Use ROVAL as primer for better anti-corrosion performance.
To achieve best anti-rust effect, ROVAL (R) is highly recommended to be used as primer when using ROVAL ALPHA (Rα) to do anti-corrosion pretreatment of steel, large-area coating or in severe corrosive environment.
If applying ROVAL ALPHA alone without primer, the thickness of the coating film must be more than 80μm.
Color weathering of ROVAL ALPHA
The film of ROVAL ALPHA weathers the same as galvanized materials by exposure.
This characteristics makes repaired unapparent.
The photo below shows a plate with ROVAL ALPHA coating on the upper half of a galvanized plate.
| | |
| --- | --- |
| | |
| Before exposure | After 3 months |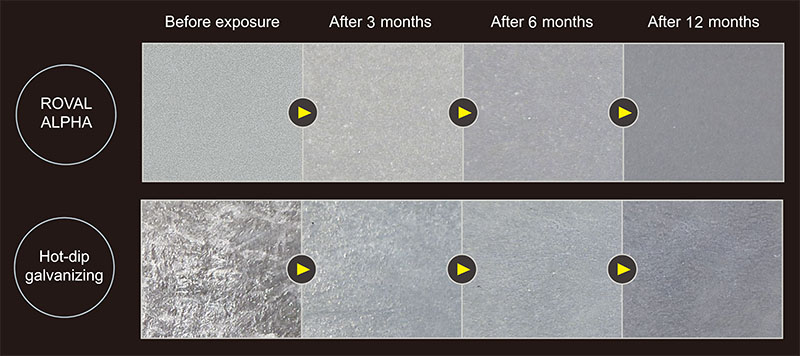 Line up & specification
| | |
| --- | --- |
| Recommended film thickness | 80μm (40μm x 2 coats) |
| Theoretical coverage | 500g/m2 (250g x 2 coats) |
| Dry to touch time | 30 – 60 minutes |
| Heat resistance | 170˚C |
Aerosol 420ml

Painting area: 0.4m2 (2 coats)


Packaging: 24 cans / case

1.5kg/can

Painting area: 3m2 (2 coats)


Packaging: 4 cans / case

20kg/can

Painting area: 40m2 (2 coats)


Packaging: 1 Pail

ROVAL THINNER

0.8kg
Packaging: 4 cans / case

14kg
Packaging: 1 Pail