< Contents >
Catalogs
Certificates
Technical documents & TDS
SDS (Safety Data Sheet)
Leaflet
| | |
| --- | --- |
| A3 or A4 size (1MB) | |
Other calatogs



General catalog




A3 size


General catalog
A4 size

ROVAL MC Color Matching Metallic Spray for Galvanized materials
A4 size
English (8MB)
日本語 Japanese (14MB)
한국어 Korean (18MB)
English (8MB)
简体中文 Simplified Chinese (10MB)
繁体中文 Traditional Chinese (9MB)
ภาษาไทย Thai (1.3MB)
English
日本語 Japanese
Tiếng Việt Vietnamese
ภาษาไทย Thai
Bahasa Melayu Malay
Bahasa Indonesia Indonesian
Certified anti-corrosion performance
Cold Galvanizing ROVAL Method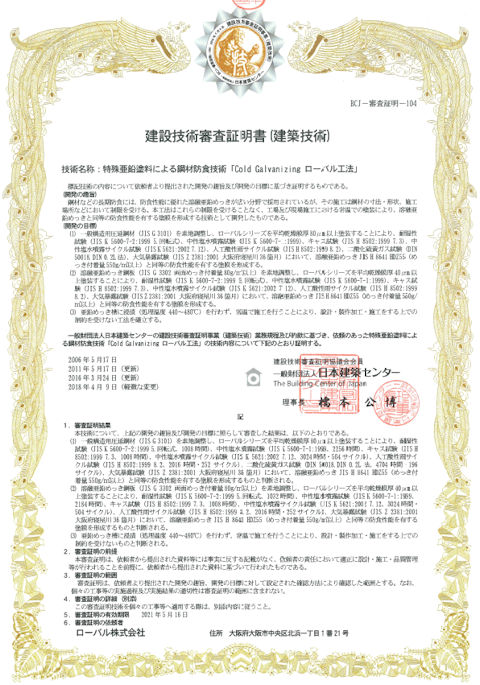 ROVAL Method Certificate
ROVAL has been certified to have equivalent anti-corrosion performance as hot-dip galvanizing by the Council for Construction Technology Review and Certification in Japan.
ROVAL conforms to ISO12944 C5-High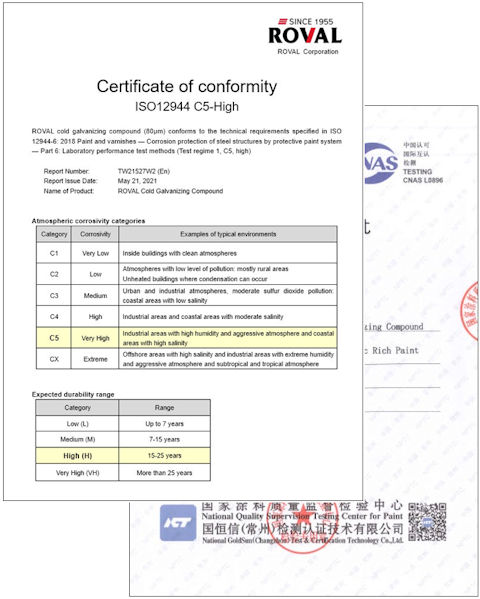 ISO12944 Certificate
ISO12944 : 2018 Paints and varnishes — Corrosion protection of steel structures by protective paint systems
It is an international standard for the protection of steel against corrosion by protective paints systems. ROVAL 80μm conforms to the technical requirements specified in ISO12944 C5-High.
This means that ROVAL can be expected to have a useful life of 15 to 25 years in C5 corrosive environment.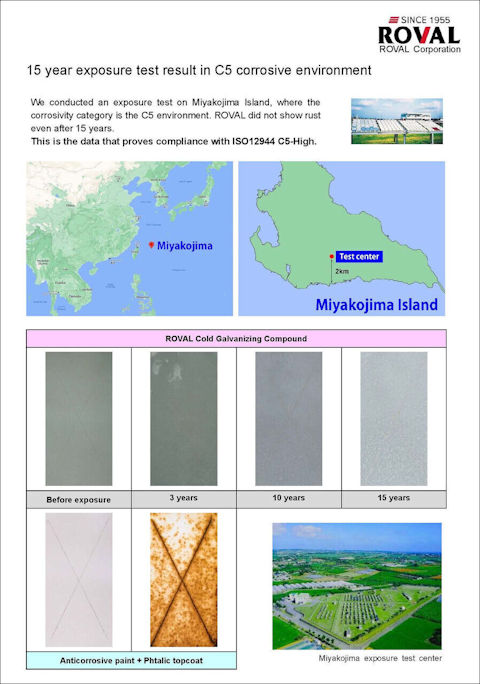 C5 corrosive environment exposure test result
15 year exposure test result in C5 corrosive environment
We conducted an exposure test on Miyakojima Island, where the corrosivity category is the C5 environment. Rust occurred on the entire surface of general paint in 3 years, but ROVAL did not show rust even after 15 years. This is the data that proves compliance with ISO12944 C5-High.
Certified by the Minister of Land, Infrastructure and Transport in Japan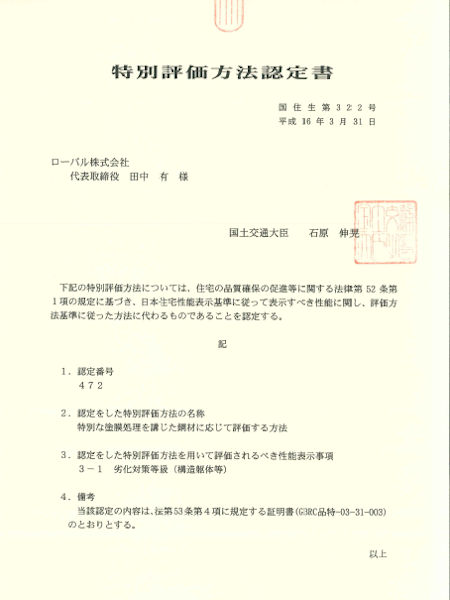 Certificate by the Minister
ROVAL's excellent performance was recognized and certified by the Minister of Land, Infrastructure and Transport in Japan.
This is a law on the anticorrosion performance of steel framed houses, and it has been recognized that ROVAL's coating is equivalent to the highest grade coating system.
| | | |
| --- | --- | --- |
| | ROVAL coating system | Highest grade coating system |
| 1st | ROVAL | Zinc rich primer |
| 2nd | ROVAL | Epoxy primer |
| 3rd | — | Epoxy resin Enamel |
| 4th | — | Epoxy resin Enamel |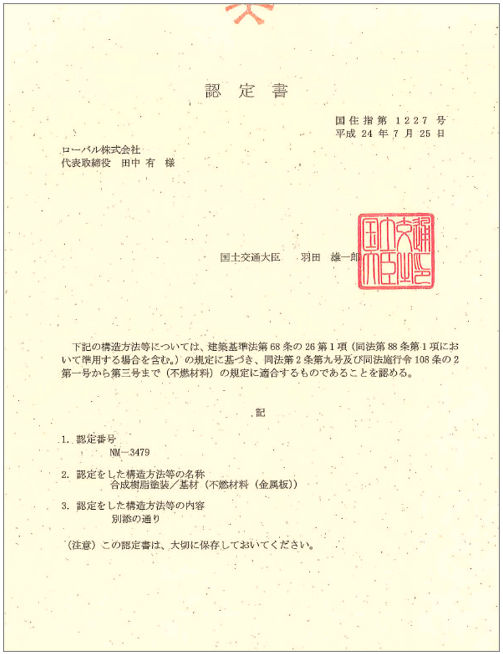 Noncombustible material certificate by the Minister
Fire protection materials are characterized by slower ignition than general building materials when heat is applied by a normal fire, and are used for the purpose of suppressing fire damage and for fire-prevention measures. It is classified into three types, Noncombustible material, Quasi-Noncombustible material, and Fire retardant material, depending on the fire protection performance of the material.
The ROVAL series painted on metal plates has been certified by the Minister of Land, Infrastructure and transport in Japan as the most incombustible "Noncombustible material" among fire protection materials.
ISO9001, ISO14001 Certificate
Other certificates
TDS (Technical Data Sheet)